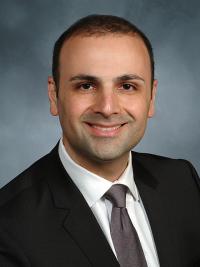 About Dr. Sadoughi
Dr. Babak Sadoughi is an attending laryngologist at the Institute, and an Assistant Professor of Otolaryngology at Weill Cornell Medical College. He is a fellowship-trained otolaryngologist-head and neck surgeon, with advanced expertise in the care of laryngeal disorders, encompassing voice medicine and surgery for performers, treatment of benign diseases and malignant tumors of the larynx, voice restoration, and airway and swallowing rehabilitation surgery. Dr. Sadoughi also specializes in the diagnosis and management of the full spectrum of adult head and neck conditions. Prior to joining the Institute, he was the Director of Laryngeal Surgery and Voice Restoration services at Beth Israel Medical Center, as well as an Assistant Professor of Otolaryngology-Head and Neck Surgery at the Icahn School of Medicine at Mount Sinai. He also served as a member of the faculty of the New York Eye and Ear Infirmary.
The focus of Dr. Sadoughi's practice philosophy is to help his patients return to their normal state of function after an illness or an injury, whether for the purpose of simple day-to-day activities, high-stake professional duties or world-class stage performance. A fully proficient voice, airway and swallowing specialist, Dr. Sadoughi has special training in minimally invasive laryngeal surgery, including the use of lasers both in the office and in the operating room. His clinical and research interests include the care of the professional and performing voice, organ preservation in laryngeal cancer, and neural modulation of laryngeal function. He has extensive experience in conservation laryngeal surgery, with a particular interest in reconstruction and rehabilitation after treatment for laryngeal cancer.
Dr. Sadoughi is a dedicated clinician, teacher and researcher, has authored more than 30 peer-reviewed publications and textbook chapters, and has presented his work extensively at local, regional and national conferences. He has significant research experience in the study of surgeon education through simulation training, and is a relentless advocate of patient safety and quality of care in the field of laryngology.
Dr. Sadoughi is a Diplomate of the American Board of Otolaryngology, a member of the American Laryngological Association, the American Broncho-Esophagological Association, the American Academy of Otolaryngology-Head and Neck Surgery and the American College of Surgeons.